In Environmentally Responsible Thermoplastic Roof Installation
Single-Ply Systems, Inc. has been in business since 1983 and is among the most experienced roofing contractors in the nation installing white environmentally-friendly roofing systems. These are the only systems we install because they are undeniably the best.
The roof systems we install reflect ultraviolet rays and help keep the building interior cooler in the summer, reducing cooling costs. And they eliminate tear-off waste and cost by recovering your existing roof with sustainable white thermoplastic roofing systems. It is the environmentally responsible choice.
Industry's best warranties
Experienced & skilled employees
Environmentally responsible
Single-Ply Systems, Inc. offers a free roof analysis including roof survey, infrared analysis, energy and drainage evaluation, as well as straight forward bids. You will be impressed by our Project Manager's knowledge, attention to detail and in-depth understanding of your roofing needs.
Single-Ply Systems, Inc. is a trusted choice for clients including construction professionals, architects, roofing consultants and property managers. We serve retail, distribution centers, warehouse, office applications -- basically any commercial flat-roof building, whether new construction or replacement is in order.
Single-Ply Systems has installed
Over 100 million sq ft nationwide
Cheyenne, WY
Cheyenne, WY
Warehouse
496,900 Sq. Ft.
Folsom, CA
Folsom, CA
Retail
135,500 Sq. Ft.
Yuma, AZ
Yuma, AZ
Retail
136,400 Sq. Ft.
Cottonwood, AL
Cottonwood, AL
Industrial
203,000 Sq. Ft.
Logan, OH
Logan, OH
Retail
186,000 Sq. Ft.
Newton, NJ
Newton, NJ
Retail
123,00 Sq. Ft.
Tomah, WI
Tomah, WI
Manufacturing
190,00 Sq. Ft.
North Platte, NE
North Platte, NE
Warehouse
492,000 Sq. Ft.
Weigh all the facts and you'll agree — choosing Single-Ply Systems, Inc. is your best option.
A singular focus on commercial installation of thermoplastic membrane has made us the foremost national experts.
Our crews work nationwide, and we have the operational processes and supervision to ensure quality work.
Many of our office and field employees have been with us more than 20 years.
We're one of the largest contractors installing environmentally-friendly roofing.
Over our 30+ year we have established a solid reputation with blue chip clients.
We build long-term relationships with our customers who use us over and over again.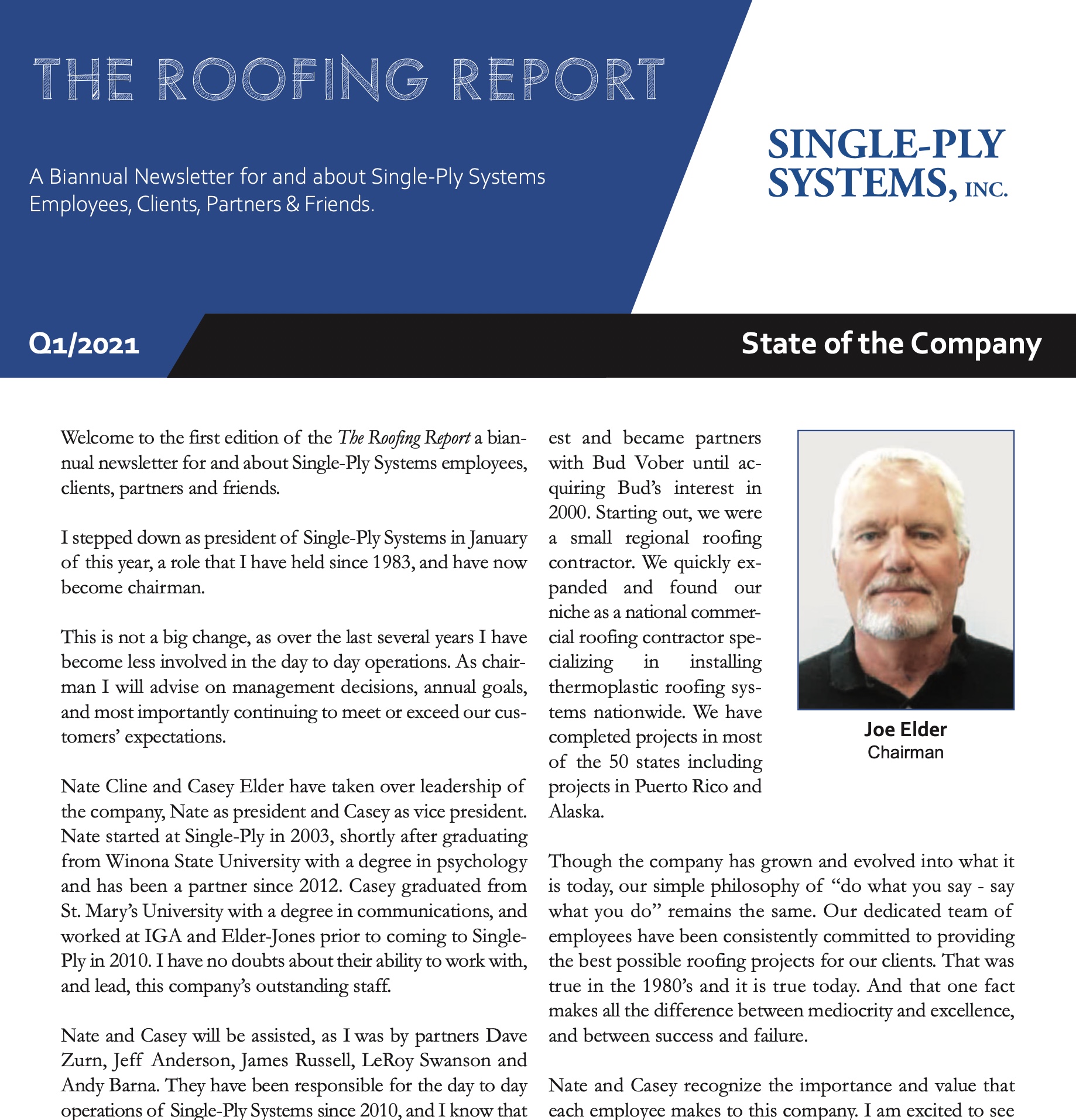 Download the latest issue of "The Roofing Report" to learn about important company news and see some of our latest work.